Let us tell you a bit about our story.  We have almost 15 years being in contact with languages. Initially, Alejandra (Alex) worked for a Spanish School at Curridabat where she realized her love for Spanish Teaching as a Second Language. Later, we had the opportunity to open, with Alejandra's mother, a Spanish School at San Pedro, which in two years was moved to Curridabat. It was until then, where we analyzed the possibility to open a new school at a different location and we decided to come and explore new opportunities in Escazu.
In July of 2010, we started the new Spanish School in San Rafael of Escazú.
On August 4, 2010 Spanish School for Residents and Expats, opened its doors to students living in Costa Rica for a long time and being here for different reasons (study, work, retirement, etc.). Practically, we started in a small nicely decorated and super cozy garage, but so soon it became bigger as the result of the number of students requesting our services. In February 2014, after nearly six months of seeking larger premises is when we found the house where our Language School is currently located.
It´s a very large house in Trejos Montealegre (here you can see our map) where you can enjoy all the facilities and an excellent learning process. Thanks to its strategic location, students are able to arrive by car, bus or walking and take advantage of our parking area. Currently, we have 7 classrooms with a capacity for 6 students each.
According to our teaching methodology we prefer small groups, therefore these rooms are very suitable for our programs. At Spanish School for Residents you can find different social areas, offices, seven bathrooms, a well-equipped kitchen, an internal garden and a back yard with a pool, the perfect place where you can sit to chat, study or finish your class work. We also have parking for about 7 or 8 cars and offer wireless internet connection available to our students.
To you, who are reading these words and probably thinking of enrolling in one of our programs,  we want to thank you very much because each one of our students are the pillars in our growth.
To all our current and future students we also want to thank you for giving us the opportunity to be part of your personal and professional success.
Welcome to Spanish School for Residents and Expats !!!!!!!!!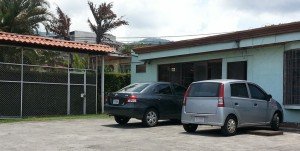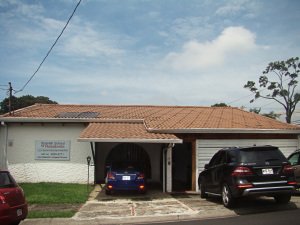 Wagner R. Freer Chan
Administrative Director and Spanish Teacher as a Second Language
Hello friends!
My name is Wagner Freer and I have worked at the school since the day we opened (August 2010) with our first student, Raymond Dunstan.
During this time I have fallen in love with what I do because it has given me the opportunity to learn about different cultures around the world.
Definitely, teaching Spanish as a second language has changed my life as I enjoy when my students get to understand, produce, think and speak the language, you are all "Pura Vida".
Some of the countries and their culture we have had the chance to learn from are: Iceland, Denmark, Germany, Turkey, Japan, Korea, USA, Canada, England, Taiwan, Poland, Gales, Australia, among others.
Finally, do not hesitate to contact me in case you have any question regarding the administrative side of the company.
I am here to serve you !
Greetings to Everyone.
Spanish Classes for Residents and Expats - Escazu
Alejandra Murillo Quesada
Spanish Program Principal and Spanish Teacher as Second Language (Instituto Tecnológico Costa Rica 2011)
Hello !
I'm Alejandra Murillo. I studied Design and Architecture but soon I discovered that my real passion was teaching Spanish as a second language.
I started teaching over fourteen years ago and each day I like it better. Spanish Language can be fun and easy to learn, depending on how you are learning it. I know that because I have been studying English and Japanese for a long time and it has been very challenging.
But I believe that if the Spanish teacher makes the learning process fun and interesting, it would be easier to learn.
"Let us teach you to love Spanish language as we do"
Spanish Classes for Residents and Expats - Escazu