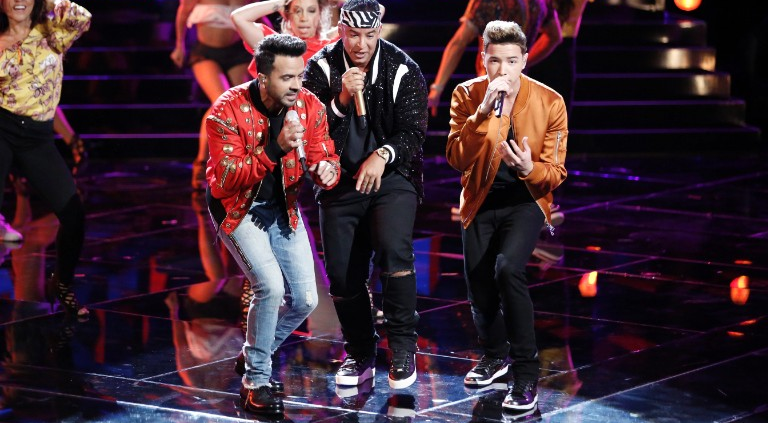 By Ana Johnson, CNN – June 2, 2017
 Luis Fonsi and Daddy Yankee perform 'Despacito' with contestant Mark Isaiah in 'The Voice' finale.
(CNN)A wall may go up between the United States and its Spanish-speaking neighbor to the south, but nothing can stop the success of the nation's current No. 1 hit song, which is mostly in … Español.
The song "Despacito," by Puerto Rican singer Luis Fonsi and reggaetón star Daddy Yankee is
number one on Billboard's Hot 100
for the third week in a row (it also features Justin Bieber). Although Latin influence in pop culture is not new, there hasn't been a Spanish language song in the top spot since "Macarena" in 1996.
But "Despacito" which means slowly in Spanish, is far from a gimmicky dance craze song. Instead, the Latin pop and urban love song have Spanish and non-Spanish speakers singing "ay bendito."
Twitter user  @hannahjmurray says, "I'd be lying if I said my white self didn't try and learn the lyrics to despacito."

Fonsi has a hard time explaining the success of his song. "I don't know the exact reason why this particular song has connected with a worldwide audience, especially with those who don't understand Spanish … I just wanted to write a great song."
While "Despacitio" has broken language and cultural barriers in the United States, some minorities, nonetheless, are feeling racial anxiety because of this particular moment in American politics.
"It's an interesting time we're living in. Just when you think we're living in a bit of a divided world, music is bringing us together, no matter the language! That's what I'm most proud of," Fonsi says.
Daddy Yankee credits music as a universal language, bringing people together regardless of background or skin color. "People are more receptive to learn … connect and exchange their opinions in the digital world and learn more from one another," Daddy Yankee says.
The music video was filmed in the streets of Puerto Rico, featuring locals playing dominoes and dancing. Fonsi told
CNNE
he wanted to show those who aren't familiar with the culture of how cheerful Latinos are and how prevalent music is in their daily lives. The woman turning heads in the video is Miss Universe 2006, Puerto Rican actress and model Zuleyka Rivera.
"It has a feel-good vibe, with a great beat that provides an escape from some of our everyday issues and I think everybody can relate to that," Fonsi says. "The main lyric is also easy to sing along to…des-pa-cito," he adds.
http://www.spanishforexpats-cr.com/wp-content/uploads/2017/06/luisfonsi-1.png
437
768
Wagner Freer
http://www.spanishforexpats-cr.com/wp-content/uploads/2020/09/spanishschoollogo.png
Wagner Freer
2017-06-08 11:30:25
2021-01-13 07:57:16
¡Ay bendito! The No. 1 song in America is sung in Spanish