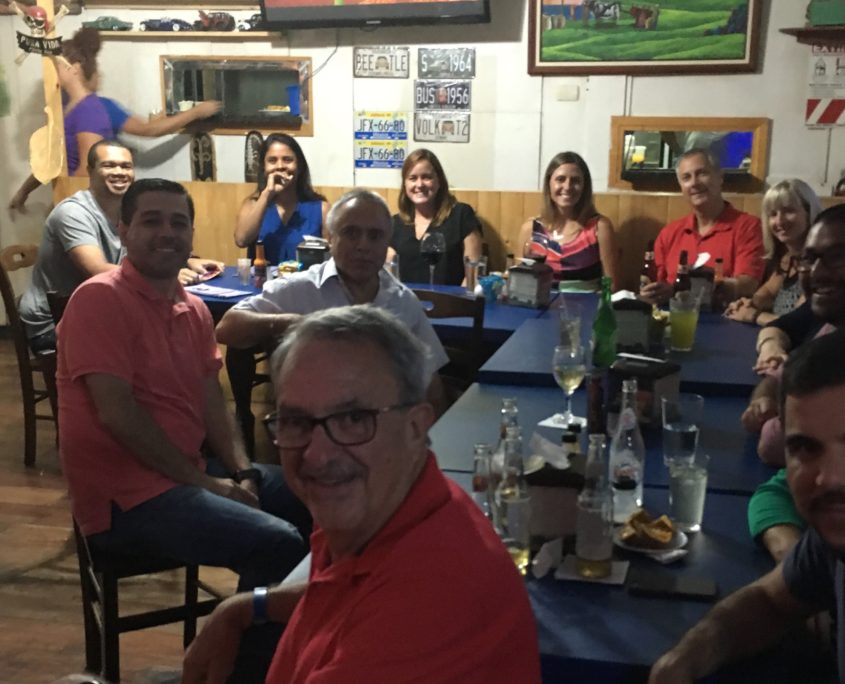 On Tuesday, July 25 a group of about 12 students met to have a great dinner at La Posada de Las Brujas in Escazú. The food here is excellent as is the service and price. This is a more typical Costa Rican venue and is almost always full. Since Tuesday was a national holiday there were even more people there and we had a bit of trouble getting a table for all of us together but the staff was able to accommodate us quickly – the staff is great! This was our first group dining event and by all accounts it was a great success. We will be doing more of these soon so stay tuned.
We are planning more outside activities each month. Some we are considering are San Jose walking tours, La Feria market tours in Escazu, Museum tours and more dinner outings.  Please let us know if you have an idea for a student group activity.
We feel that these activities allow students to experience more of Costa Rica while at the same time speaking and practicing Spanish in a day to day situation. Also, students that are may be new to Costa Rica get to know other students outside of their group class and form new friendships.
The annual student party will be Saturday, August 19, 2017 at the school. It starts at 11:00 AM and goes until everyone leaves. People will be coming and going all day so plan to come and stay all day or just a few hours – whatever your schedule allows. It will be a "pot luck" & B.Y.O.B.  More information will be forthcoming so keep an eye out but mark your calendars now. It is always great fun with Wagner even teaching some dancing – as the night goes on!
There are some other new things that are available on our website like the Spanish music, puzzles and more. "Flash Cards" are also available and are a quick and easy way to review anything from the alphabet, parts of the body to furniture items. One can study quickly and easily outside the classroom and it's fun too. Here is the link: http://www.spanishforexpats-cr.com/student-resources/.
¡Pura vida!
Write by John Boozer, our Student Coordinator
http://www.spanishforexpats-cr.com/wp-content/uploads/2020/01/SpanishforExpats-300x83.png
0
0
Wagner Freer
http://www.spanishforexpats-cr.com/wp-content/uploads/2020/01/SpanishforExpats-300x83.png
Wagner Freer
2017-08-01 19:19:31
2017-09-01 12:45:36
The Spanish School for Expats has always done more for students than just teaching Spanish.